I thought since today was Christmas, I would give those people looking for very late Christmas gift ideas some suggestions. Here is my list of the 5 most wanted items for my shop.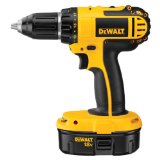 Cordless Drill
The DEWALT DC720KA 18-Volt 1/2-Inch Cordless Compact Drill/Driver Kit is built around a versatile tool that makes quick work of a variety of driving and fastening tasks. With its high-performance, frameless motor; dual-range, variable-speed control; and comfortable grip, this tool is powerful and easy to handle. The Drill/Driver Kit includes a convenient one-hour Ni-Cad charger, two 18-volt Ni-Cad batteries, and a sturdy kit box.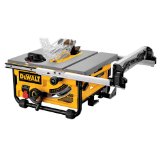 Table Saw
The DEWALT versatile 10-Inch Jobsite Table Saw features the Site-Pro Modular Guarding System for application-specific setups that result in quick, accurate cuts. It pairs a portable design with a powerful 15 amp motor and large16-inch rip capacity. This saw comes with blade guards, a miter gauge, a push stick, and a dependable 10-inch, 24-tooth carbide blade to get your project started right away.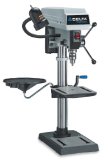 Drill Press
Precision drilling is a snap with the DELTA DP300L 12-inch TwinLaser Crosshair Drill Press. This powerful drill press features five speeds for drilling a variety woods, plastics, and metals, and the rack-and-pinion table is silky smooth when raising and lowering it to the desired height. The adjustable-position locking system allows for easy angle adjustments for repetitive drilling. The bright laser crosshairs make certain that drilling accuracy is perfect every time. Other convenient features include an 11-inch table for placing tools when not in use, and a flexible lamp for added light while working.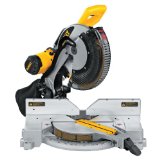 Miter Saw
Whether you're cutting baseboards or crown molding, the DEWALT 12-Inch Double-Bevel Compound Miter Saw provides quick, accurate cuts to complete the job. Thanks to a powerful 15 Amp motor, an easy-to-adjust cam-lock miter handle, convenient miter and bevel stops, and a tall fence for oversized decorative moldings, this compound miter saw is ready for a range of crosscutting and miter-cutting applications. In addition, it comes with a durable carbide blade, a blade wrench, and a convenient dust bag.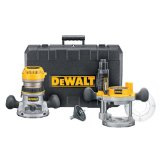 Router
Featuring a 12 amp variable-speed, soft-start motor, the DEWALT 2-1/4-Inch Fixed-Base/Plunge-Base Router Combo Kit is packed with smart design features that make routing easy. Depth adjustment and base changes are tool free, and integrated dust control keeps work spaces clean and improves cut line visibility.
Hey, I know it's too late for this Christmas, but there's always New Year's, Valentines Day, and Father's Day. Well anyway, stay safe, work hard, and as always, thanks for stopping by MVB Crafts.
Regards,

P.S.
If you want to get your guy some really nice gifts for any occassion, click Power Tools and purchase them from Amazon. By making your purchase through the link on MVB Crafts, you'll be helping support this website, and help us keep providing you with quality content.
Thanks.